Ice Fishing Tips. Ice fishing is a method of fishing where an angler catches fish through a hole in the ice of a frozen body of water. The frozen body of water can be a pond, a lake, and in some cases a river. Some ice anglers will have elaborate setups that include heated cabins, while others will simply sit on the open ice and fish. Ice fishing has changed a lot in the last 25 years. With modern equipment with 2 to 3 times the power, the days of drilling a single hole and waiting for a fish to arrive are long gone.
Most countries designate specific public ponds and lakes where ice fishing can be done. One of the key things to remember when ice fishing is that safety should always be your number one priority.Ice fishing is one of the most dangerous fishing methods and it is important to follow the safety steps to make sure you get home in one piece. The recommended depth for walking on frozen water is 10 cm. While many anglers risk walking on 6 cm of ice, we do not recommend it.

Situations can occur in great lakes where miles of ice can be separated by offshore winds. Always make sure you have a charged cell phone and tell someone where you are fishing when you are leaving, and when they should expect you to return.

Beware of ice thinning in late winter warm-ups, even if the ice is at the required depth it cannot support the standard weight.

Related Article

Fall Bass Fishing Tips – The Ultimate Guide
Ice Fishing Tips, Tricks & Tactics
Below are some tips and strategies that should help you enhance your next ice fishing experience.
Depth Matters:
Fish will generally maintain a specific depth through the winter, making them easier to find. Do simple research on the internet to find out how deep the species of fish you are trying to catch stays during the winter months.
Slow and patient you win a fish:
fish do not use as much energy during the winter months. If you move your bait too fast, a fish may drop it to save energy. This is the biggest problem novice ice anglers have when they start out.
Cover the hole:
If your ice fishing in a shallow area, it is better to keep some ice chips in the hole to prevent light from penetrating the surface. This prevents fish from avoiding the area where you fish.
Down to the Bottom:
Both sunfish and perch love to feed on the bottom during the winter months. Trying to bounce your bait off the bottom to remove some mud and debris, can attract fish from a distance.
Bait in your hole :
Sometimes dropping bait in your hole can attract more fish to your location. While most fish don't want to exert too much energy in icy water, they can still be attracted to feeding other fish. Try mashing up some small fish or dropping some wax worms and letting them freak out.
Learn how to treat hypothermia:
Most ice fishing related deaths are not due to drowning but are due to hypothermia. Be sure to educate yourself on what to do if you or a fellow fisherman falls into the icy water. Remember, someone can die as soon as 20 minutes from being soaked in ice water. Always have a cell phone handy to call for help and a set of winter clothes nearby.
Ice Fishing Equipment and Safety Tips
Discover the right equipment and some safety tips for ice fishing that will help you enjoy this winter activity.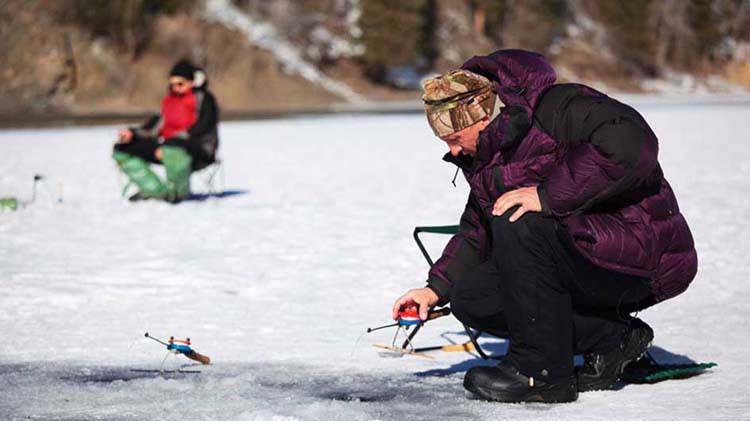 Tips to make your next ice fishing trip enjoyable and safe
During the winter months, a frozen lake can become a center for many outdoor activities, including ice hockey, dog sledding, and ice skating. But another winter pastime in the United States and Canada is ice fishing.
While this favorite winter sport can be fun, it can also be dangerous. In some cases, serious injuries or deaths have occurred due to dangerous ice fishing practices. So if you're looking to stay out of harm's way on any frozen lake or river, let's start by tackling some of the origins of dangerous ice fishing and then get acquainted with some ice fishing safety tips.
What are the dangers of ice fishing?
Ice fishing-related injuries and deaths are typically the result of hypothermia (a condition that dramatically lowers body temperature, leading to severe metabolic dysfunction), or vehicle-related accidents. Some of the other common dangers of ice fishing include:
Not dressing appropriately for ice fishing. 
Due to the risk of hypothermia, keeping your head, hands, and feet warm and dry is essential.
Failing to pack the proper equipment for ice fishing. 
Death by drowning can occur if you are not wearing a life jacket. Packing the right equipment, such as picks and ropes, can help you overcome difficulties.
Excessive alcohol consumption while ice fishing. 
Drinking alcohol can slow your reflexes and reaction time, which can be dangerous in an emergency. Excessive drinking also increases the chances of hypothermia, because, with alcohol consumption, the blood vessels narrow and the body temperature drops.
Falling through a thin layer of ice. 
Ice does not freeze uniformly on the surface of a lake or river, and areas with thin layers cannot always be detected with the naked eye. The strength of ice is affected by current, wind, and other factors. The thin layers of ice cannot support the weight of a human, much less a snowmobile, all-terrain vehicle (ATV) or truck. Check with your local emergency officials as to how thick the ice should be to be safe.
How to Ice Fishing Safely.
It's not just about the thickness of the ice – doing things safely on ice requires patience and preparation. Here are some practical things you could do to have a safer excursion:
Bring a friend with you. 
Don't ice fish alone. Also, make sure your friends and family know where you will be fishing and when you plan to return home.
Expand the area in which you fish. 
Don't drill too many holes in one place. The more holes there are, the less stability there is on the ice's surface.
Don't ice fish near plants. 
Plants produce heat as they decompose. So watch where you step in swampy areas.
Wear a life jacket. 
Life jackets have excellent buoyancy properties in case you fall into the water.
Wear appropriate footwear. 
Crampons (or non-slip traction spikes) are attached to the sole of your shoes to give you more traction on the ice. Spray them with vegetable oil to prevent snow or ice from sticking to them.
Bring a couple of ice picks or screwdrivers. 
Store them in your jacket in case you fall into the water and have to go out by yourself. Make sure they have wooden handles so they don't sink in.
Pack a rope to go ice fishing. 
It is easier to get someone out of the water with a rope than by arms.
Avoid snow-covered ice.
Snow has insulating properties, which prevent cold air from keeping the ice below freezing.
Refrain from drinking alcohol. 
Alcohol slows down your reflexes and can affect you in such a way that you are more vulnerable to hypothermia.
Pack a first aid kit, and matches. 
Store these items in a safe, dry place so they can be used in an emergency.
Stay away from sea lanes. 
Oil tankers and barges affect the integrity of the ice, even if you are fishing miles away.
Park your vehicle on solid ground. 
Refrain from parking your car or truck on the ice. The added weight could cause the ice around you to break.
Be sure to check out the Outdoor Safety Tips and Beginner Snowmobile Tips for additional tips on how to stay safe while enjoying winter activities.